ABOUT WISER
Wiser, located in Sweden, is a private company, adapting, developing and
implementing aviation working methods into other branches.
The owners have held leading positions within the Airline Industry, such as,
Maintenance, Engineering, Planning, Quality, Safety and Flight Operations.
The cornerstones of our method are safety, reliability, economy and environment.
Our business is to help other branches forging aviation wisdom into their daily operations.
The Owners
Erik Kron - Managing Director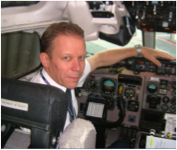 +4670 225 45 83 – erik.kron@wisersystem.com
More than 30 years of experience from commercial aviation. Holder of Aircraft Maintenance License Part 66 B1 and B2. Captain Pilot for including Boeing MD80/B737. Several years of experience as EASA Part M and Part 145 Director of Maintenance, Accountable Manager EASA Part M, EU-OPS 1 Quality and Safety Manager. Owner and developer of Wiser software System. Founder, owner and Vice President for Air Hudik AB*. (*Appointed winner of entrepreneur of the year in Hudiksvall 2009 and Gasellwinner in Gävleborgs län 2012.)